Ben D'souza
I'm Ben and I joined the Marist Seminary in 2013.
I was born in Bombay, India in a Catholic family and studied there till the year 2000 when my family moved to NZ.
I went to Marcellin College and was taught there by the Marist Brothers and while at school got to know a few Marist priests in their capacity as the college Chaplains.
After school I went to the University of Auckland and graduated in 2010 with a BSc in Marine Biology. In 2011 I studied for a Graduate Diploma in Education to teach biology, science and RE in secondary Schools.
I was at Catholic Discipleship College in 2012 and was blessed to have Fr Neil Vaney SM as our chaplain.
One of the reasons that I joined up is that I have seen many great Marists serve the church in their own way and I would like to do the same.
So far I have had a great time.
I have learnt a lot since I entered the Marist Seminary, in particular, about the Society of Mary, community life, the church, prayer and God.
I have been studying at Good Shepherd Theological College doing papers in theology, the Bible, philosophy and Italian as a preparation for the Theologate in Rome.
I've really enjoyed my pastoral work at the Marist Learning Centre, it's a great example of theology in practice, in the real world, so to speak.
I hope to learn more about what God's plan is for me in the years to come and how to serve the church in a way that will glorify God.
Hayden Powick
My name is Hayden Powick, and I started at the Marist Seminary in 2014.
I come from a small town called Wakefield in the Nelson area, and have lived there most of my life.
I have attended St Josephs Primary School in Oamaru, and St Pauls in Richmond-Nelson before moving to the fledgling Garin College. After this I studied for three years at Nelson Malborough Institute of Technology, completing a Bachelor of Information Technology, which I finished at the end of 2012.
In 2013 I spent most of the year working as a building hand and a road worker. I finished the year with a three month volunteer stint in the Solomon Islands and a few weeks in PNG working as a teacher.
It was in the Solomon Islands where I developed an appreciation for community life. I fell in love with the atmosphere of prayer and service whilst working at a Salesian school and living with the Fathers there. It was also here where I met a number of Marists working in the Solomons, who had a huge impact on me with their hard work, humility and sense of humour.
All through my life I felt God calling me in a special way, I couldn't think of being anything but a priest. However I had always found a reason to put it off, I truly have a gift when it comes to procrastinating! The time in the Solomon Islands really felt like a spark which ignited inside me, and I once again felt that personal invitation to the priesthood.
Even after such brief contact with the Marists I felt dwarfed by their humility and back-breaking service for those in need. This is one of the many reasons why I have joined the Marist community here in Auckland.
So far I am enjoying the seminary. I am blessed to have great guides here; both priests and seminarian, and I hope I will learn much more in the years to come.
Seremaia Turagabeci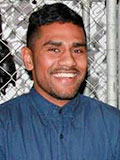 Bula Vinaka! I'm Seremaia and I started study at the Seminary in 2017. I'm originally from Fiji. My family and I moved to NZ in 2000. I'm the eldest of three.
I grew up in Henderson, West Auckland and attended primary school at Holy Cross then went onto study at Liston College. In 2008 I was fortunate enough to represent the Holy Cross Henderson youth group at the World Youth Day in Sydney.
After high school I went to study towards a bachelor of commerce and graduated from Unitec in 2016. While I was studying I was working part-time at the supermarket and was also involved in the Auckland Fiji Catholic Community. I love sports, mainly team sports and the idea that each player contributes to the team and towards a common goal.
I've always been told by friends and family growing up that I should consider a vocation to the priesthood but my misconceptions of the life of a priest discouraged my interests in the vocation. Hence I never considered it or rather was too distracted at the time.
It was not until my last semester of university that I started to discern the call after developing a relationship with Mother Mary. I attended Hearts Aflame 2017 in Christchurch which was a ten day retreat and it was definitely a great start to the year.
One of the many reasons I joined the seminary was because of the whole concept of community living and also the call to simple, modest and humble action.
It's been great so far, I'm very grateful and honoured to be apart of this Marist Community as they've been very helpful in my transition to seminary life. I look forward to serving this community and allowing God to use me for his glory, whatever he has planned for me.
Hayden Kennedy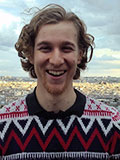 My name is Hayden Kennedy and I started study at the Marist Seminary in 2017. I was born in Queensland, Australia, as the only child of Mr and Ms Mark Kennedy.
I attended Our Lady of the Angels Preparatory School in Wavell Heights before completing my pre-tertiary studies at Marist College Ashgrove. For the next five years I attended the Australian Catholic University in Brisbane reading practical theology and the dramatic arts.
At this time I was introduced to Fr Gerard Hall SM whilst he was taking undergraduates in inter-faith dialogue. After twelve years of education with the Marist Brothers, for which I will be forever grateful, Dr Hall dissolved any indecision and sparked a journey, within me, for a life with Mary and with God.
Following this I was invited by Fr Robert Barber SM, to be a charter member of a Marist house of hospitality in Paddington, Brisbane. We were created to enact pre-formation programs and to invite the wider community to share in the wonders of Marist Community life. The passion and involvement of these young adults and the revolving door of youthful fervour in our house was truly a grace.
A secondary role for our community was to share in and strengthen the bonds with our FMS Brothers who resided across the street. To this end I was invited by Br Neville Solomon FMS, my former principal at MCA, to begin work with Marist Schools Australia and with Marist Youth Ministry. The richness I experienced in the culmination and integration of our five charisms bearing Mary's name, greatly cemented for me, the Marist role in the universal, familial Church.